We'd like to outline the benefits that employees at Mujin Japan receive. Employees are the most valuable assets of Mujin, and we strive to make an environment that can make the most of our employees' potential. Our goal is not only to find people who will fit into our culture, but also to ensure that they are set up for successful wellbeing at Mujin for the long term. We support employees and their families with benefits, called fukurikousei (福利厚生) in Japan, for their health and life. The below comprehensive array of benefits and perks apply to regular, full-time employees.
Work environment
Basically, there is no dress code in the office. Employees are free to wear whatever they want with some general limits such as clothes that are respectful, clean, and well-maintained.
(*Salespeople are required to wear suits or office casual attire when they have appointments with customers)
New employees receive high-power laptops and desktops with all necessary accessories such as dual monitors and ergonomic keyboards, personal protective equipment to be able to work in industrial areas, and a first-day welcome kit including mug, t-shirt, and office stationery.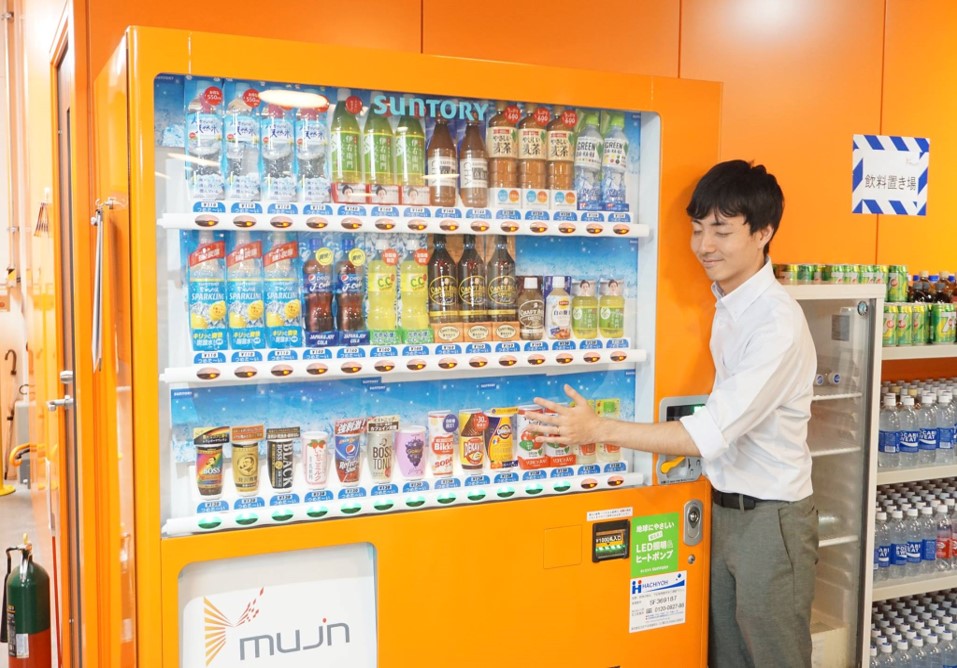 Mujin provides fully stocked areas with healthy and some not-so-healthy snacks and chocolates. We also have free vending machines stocked with a variety of drinks, hot and cold, from coffee beverages to soups and lemonades.
Mujin also provides free unlimited freshly brewed coffee (Good coffee at the workplace – it's possible with Mujin!).
Mujin provides a free buffet-style lunch made fresh every day by our chef with vegetarian, halal, allergy restrictions, and other options provided depending on employees' needs (Hungry? There is a free lunch!).
Employees from overseas
New employees who relocate from outside of Japan to join Mujin are eligible to get relocation support. Mujin covers basic flights (for newcomers and their families) and relocation expenses (with limits, please check during the interview process).
Japan can be a comfortable, but slightly confusing country to live in for those who lack Japanese ability. Mujin offers a life support service to make employees' daily life easier. Language support to open a bank account, buy a cell phone, choose a kindergarten, or the occasional document translation helps a lot.
I think it is a unique benefit that the company provides life support for employees. I believe it reduces stress, makes it easier to adapt to a new life, especially for newcomers from overseas. I also have experience living in other countries, so I understand how difficult it is to adjust to a new culture, especially with a language barrier. This life support system can help employees reduce inconvenience and provide a comfortable environment for living in Japan. I'm happy to help!
Mujin provides visa support when new employees decide to join us and later if employees would like to get a different type of visa (e.g. high skilled professional, permanent, etc.) as well as help for employees' family members.
Mujin provides an opportunity for employees to visit their home country. If employees follow all conditions, they will be eligible for reimbursement every year. Mujin understands how it is important to visit families especially when living abroad.
I think Home Returning Support from Mujin is an amazing employee benefit. Since a big portion of the travel expense (flight tickets) is reimbursed by the company, I feel encouraged every year to plan some of my vacation time in my home country. It helps me keep close family bonds alive! My 5-year-old daughter looks forward to her annual visits to India and Portugal, and I think it is so beneficial for children of expats to know their cultural roots and family traditions. It is indeed rewarding for the whole family to spend such a great time together, and it makes me feel valued and motivated to work hard and build a better future for everyone!
Learning opportunities
Mujin provides internal and external training programs where new employees receive all important information about their workspace, equipment, company culture, and benefits. Later, employees participate in a basic robotics course for the software engineers, leadership training for managers, and others.
Expenses on work-related books and magazines are fully covered by the company.
The office has quite enough books for me and my teammates, but I think it is important to know about such an option. Some of the books and journals/magazines are quite expensive. As well some online journals need a subscription fee, and I believe Mujin can pay for it if it is necessary for our job. At some point, I was thinking of paying for some articles, but in the end, I just contacted the researcher and he was kind enough to share his paper with me.
Wellness support
Health Insurance (Kenkou-Hoken)
Medical insurance system designed to be prepared for situations such as illness, injury, birth, and death. Mujin pays half and the other half is simply deducted from employee monthly salary. The insurance covers 70 percent of the medical fees (and any of the employee's dependent family members as well). Medical fees are strictly regulated by the Japanese Ministry of Health to keep them affordable, unlike other countries where they can be a significant financial burden.
Free complete medical checkup service
The yearly health checks significantly reduce fatality rates of cancers, liver disease, and heart conditions that are far more survivable if found early. Fees are fully covered by the company.
Mujin provides an annual free flu vaccination to all employees every year. Doctors visit our office and provide vaccination to all employees who wish to get vaccinated.
Employees may use the company gym which is situated inside the Mujin Tatsumi facility. We need mental and physical movement to keep us healthy, and as a respite from sitting in our chairs all day. The Mujin gym is a great opportunity to feel refreshed.
It is not huge, but there is a power rack, dumbbells, benches, a bicycle machine, and a treadmill which cover some training you can do. It feels good to work out after finishing for the day.
Industrial accident compensation insurance (Rousai-Hoken)
Worker's compensation insurance is insurance when employees are injured or sick as a result of accidents that occur while working or on the way to work.
Employees are entitled to receive consulting services where they can talk with a company doctor, where they can get mental health support, which is provided free.
Ping pong is also a great way to take a break because it's healthy in many different ways. It stimulates the brain, it helps improve hand-eye coordination, reflexes, agility, and flexibility.
Also, we have a foosball table and sofa area where employees may relax, enjoy TV, video games, or board games.
Mujin covers the futsal field fees every month, where employees can play outdoor football after work and enjoy free time together.
We encourage our employees to commute by bicycle, which is both healthy and environmentally-friendly.
Company events
Every year Mujin employees take the opportunity to celebrate our accomplishments, growth, and deepest gratitude to the entire team that contributed to our amazing achievements. Employees get a newly designed t-shirt and other Mujin souvenirs.
Individuals that have great achievements are rewarded, and awards are given from time to time.
Holidays, celebrations, and special occasions
We celebrate the winter holidays, Halloween, St. Valentine's, and other special days at Mujin. We have company cooking classes, competitions, and experience Japanese culture together. We always find opportunities to get to know each other, and Mujin helps (Fun)
Mujin provides a benefit for our teams which has a great impact on maintaining open communication. As Mujin is getting bigger and bigger very quickly, we want to ensure that employees feel unity and promote a fraternal atmosphere. A great way to create a relationship and to encourage productivity is to have a team dinner, and Mujin pays for it (Forming stronger bonds at team dinner).
Holidays, leaves, childcare and maternity, and celebration and condolence
In addition to the regular paid leaves, employees are entitled to take childcare leave, maternity leave, sick/injured leave, family care leave, marriage and condolence leave.
I can take paid time off to go to my prenatal appointments and take some days off of bed rest if recommended by the doctor. My maternity leaves will start soon (6 weeks before the expected date of birth and 8 weeks after the date of birth). All of my colleagues are very understanding and it makes working much easier.
Compensation during childcare and maternity leave
During childcare and maternity leaves, the employee salary will be covered by the social insurance up to a limit of around 2/3 of the base salary. No income tax or social insurance fees will apply during maternity leave since the employee does not have an income. Males are also entitled to take childcare leave.
Congratulatory or condolence money
Employees are provided with monetary gifts for weddings, childbirth, and during times of condolence.
Other benefits
Mujin covers the cost of commuting to and from work and home. Public transport fees in places like Tokyo tend to be rather high. The best thing about using the commuter pass is that it is valid for any part of the train lines employees use to get to the office. When people use their commuter pass to go out on weekends – they are not charged if it's on their route.
Mujin will be a contractor in a lease contract and rent the apartment for employees. Mujin can be a guarantor which helps to secure a more sought-after rental.
Health insurance travel benefits
Our health insurance firm provides an additional benefit for their subscribers such as discounts for hotels, travel, sports clubs, and others.
I love this benefit as we use it every year with my family, sometimes including my sister and friends. We spent so little on a luxury trip. My favorite place is Toslove Luana in Tateyama city, Chiba. The view from their room is so beautiful, and we had so much fun in the pool outside in the summertime.
Business-related expenses are fully reimbursed to employees (transportation, accommodation). Additionally, employees get a per diem to cover meals.
Mujin takes care of employees' taxes, spreading the payment over the entire year. Employees do not have to read all those kanji in the fine print which makes life so much easier.
Mujin provides a quiet room for prayer or meditation where an employee can stay alone. If the religion requires the observance of particular prayer times during the working day, this is respected at Mujin.
Due to COVID-19 some benefits related to the social gatherings have been suspended.
IF YOU THINK MUJIN IS THE BEST PLACE FOR YOU APPLY:
https://jobs.lever.co/mujininc