People connect over food – that's why we meet friends, family, or dates for dinner or drinks. Sharing a meal brings us together and encouraged us to interact on a personal level.Team building during lunch is a great way to increase cooperation within coworkers, improve communication among teams and, as a result, the power that comes when co-workers have fun together. That's why one of the many benefits at Mujin is a
free buffet-style lunch
made fresh every day by our chef (please check our
#benefits
).
At Mujin, the original idea was to eliminate as many distractions as we can and continuously support our talents. All they have to do is think about coming in, and we, Mujin, take care of everything else they needed during the day.
But lunch time has become something more than just another meal. It has become a core part of our culture and employee satisfaction: it is a space for creativity, collaboration, and authenticity. Lunch time is now a venue for relationship building between teams and also between employees that normally would not have opportunities to spend time together in a relaxed and setting. A lot of informal communication can happen over meals, so coworkers may miss out on information they need to do their jobs.
Lunch at Mujin
Since there is little need to talk more than light conversation, it is a relatively low-stress encounter for employees get to know each other. Removing our headphones, breaking away from our desks and sitting together to eat is always refreshing. During the lunch time people could find a common language for communication. Be it travel plans discussion, restaurant recommendation, football results or the new phone release, all of these connections are to share a meaningful connection over a meal together. Also, we have Speak & Lunch at Mujin every Friday.
But let's not forget about the food! Our chef, Hideyoshi san, is an artist. Hideyoshi san trained in France and Italy, but he also prepares Mexican, Chinese, Korean, Thai, and Japanese dishes, so every day, we are treated to something new. This is a great benefit because many of our employees have gathered to our Tokyo office from all around the globe (
Diversity: everyone is unique
).
Mujin feels it is a responsibility and an obligation to also provide vegetarian, halal and other options in accordance to any dietary restrictions some may have. And since we moved to the new larger office, we have a well-equipped expanded kitchen, where our chef could be painstakingly creative.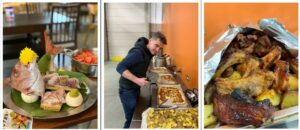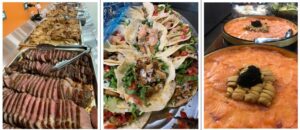 For example, now we can enjoy freshly baked home-made focaccia, different kinds of meat and fish entrees, a wide and numerous varieties of side dishes, and at least 2 kinds of soups. Also, we have a bread-and-cheese-and-cold cut station, where employees can grab home-made focaccia or baguette chunks and loads of cheese to make their cheese plates and feel fancy. Just look at this cheese platter! Brie, Camembert, Comte, Mimolette… for big gourmands like me!  And, of course, desserts! Cakes, pancakes, ice cream, acai bowl – easy!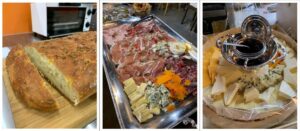 At Mujin we also encourage a proper eating. Freshly baked pizza (which we had today) is a nice treat but eating food like pizza regularly may lead to the poor well-being, not just physically but mentally as well! The salad bar, sashimi and fruits are provided everyday so there are always healthy options. Since our chef's meals are made from "scratch", processed foods have become a thing of the past.
At Mujin, we provide fresh, quality and always delicious meals every day.