Mujin, Inc., a leading provider of intelligent robot solutions, has introduced TruckBot, the world's fastest intelligent devanning robot designed to automate the trucks unloading in the United States. The product is also slated for release in Japan by end of the year (details provided below).
Automating the devanning process is challenging due to its demanding nature, involving heavy labor and exposure to high temperatures, especially during the summer.
Automating Devanning Work
TruckBot is the world's fastest devanning robot, capable of unloading up to 1,000 cases per hour of mixed loads from containers on trucks and trailers.
The MujinController acts as the central hub governing the mobile conveyor, manipulator hand, and 3D vision, autonomously calculates the most efficient routes and movements to automate container unloading while sustaining high productivity levels. This technology enables operations at depths of up to 15 meters within the container and facilitates the handling of cases weighing up to 22 kg.
Please watch the video to see the operation in action.
The system is already scheduled for delivery to a major U.S. retail and logistics company and will subsequently be deployed in Japan after being customized to meet domestic specifications.
Achieved through advanced software technology and hardware design.
TruckBot is a product brought to life through Mujin's cutting-edge proprietary software and hardware design technologies. The product revolves around three key aspects:
1. High-precision recognition via 3D Vision
Unloading cases from containers demands precise case recognition from the side. Drawing from our extensive experience in case handling automation, we've refined the capabilities of our 3D vision system, achieving exceptional accuracy even in challenging environments.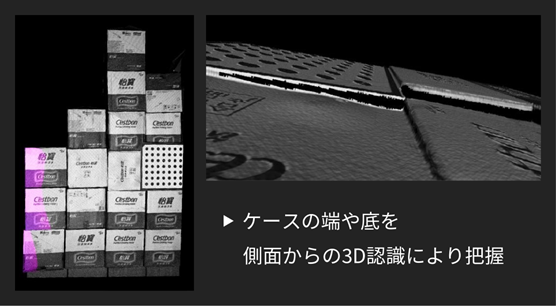 2. Design of moving conveyors and hands
As a result of our engagement in numerous automation projects within warehouses and factories, we possess not only advanced software technology but also expertise in cutting-edge hardware design. On this occasion, we've developed specialized movable and retractable conveyors, along with dedicated hands that collaborate seamlessly with the conveyor system to bring this innovation to fruition.
3. Optimization of robot operations through intelligent software
The Mujin controller, governing the entire system, is equipped with our exclusive "robot intelligence software." This software computes real-time optimal routes and movements, utilizing data from the high-precision 3D vision system, which guides the motion of both the conveyor and the hand. This streamlined coordination ensures efficient robot movement, leading to remarkable productivity levels of up to 1,000 cases per hour.
Stay Informed with TruckBot Updates
We are set to launch TruckBot in Japan by end of the year.
If you wish to receive the latest information about TruckBot, you can subscribe (free of charge) by completing the form below:
ニュースリリース: https://www.mujin.co.jp/news/7781/