Mujin has introduced a new robot gripper capable of handling bags as the first in a series of new product announcements.
日本語: https://www.mujin.co.jp/news/7702/
With our newly developed bag robot gripper, the MujinRobot, designed for automating factories and distribution warehouses, can now perform efficient loading and unloading of bags.
Various bag loading and unloading operations are made possible with our MujinGripper
Our team has successfully developed a specialized bag robot hand for the intelligent robot MujinRobot, which is designed to automate various processes in factories and distribution warehouses.
1. Gripper designed for loading and unloading bags
The suction hand, situated at the top of the bag, allows for seamless transportation of bags of different sizes and types without causing any damage to the products. With a maximum payload capacity of 30kg for our standard product, it can easily handle a wide range of bags, even mixed goods. Thanks to its advanced 3D vision capabilities, it accurately identifies and loads the bags in any orientation, ensuring efficient and precise operations.
2. Gripper designed for stacking bags
These grippers provide exceptional support and convey bags from the bottom, enabling stable and high-speed transportation. With this cutting-edge technology, you can efficiently stack bags without compromising on speed or reliability.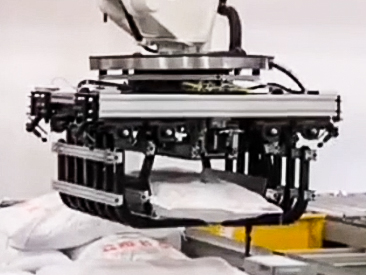 Optimal hardware design enabled by advanced software
To achieve high performance in our entire robot system, we focus on seamlessly combining and integrating all critical elements, including robot arm movement, 3D vision recognition timing, hand design, and movement. However, optimizing these components is often challenging, as system capabilities remain uncertain until the go-live phase.
At Mujin, we have developed our own robot intelligence software, which plays a pivotal role in our approach. Before constructing a system, we utilize this software to conduct simulations in a digital twin environment. This allows us to predict the system's capacity at the conceptual stage, even before manufacturing the physical components. As a result, we can create an optimal hand that delivers outstanding performance, enhancing the system's overall efficiency.
Through our advanced software and digital simulations, we empower our customers to proactively assess system capabilities, minimizing risks, and maximizing results. Our high-performing solutions are finely tuned to meet your unique operational demands.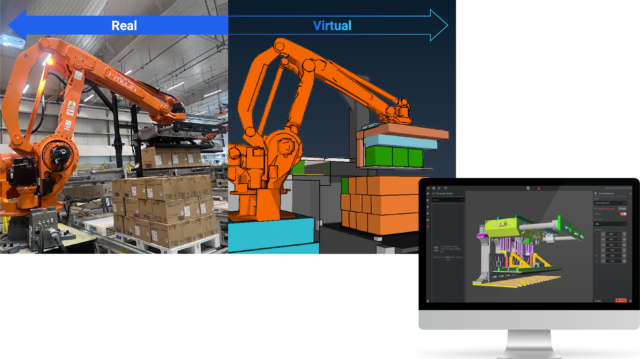 Mujin achieves automation solutions by efficiently controlling peripheral devices like intelligent robots and AGVs.
Our capabilities allow us to combine these technologies effectively, enabling tasks like unloading cases from pallets, picking cases and pieces, and handling pallet and basket trucks. We have successfully provided diverse automation solutions, including loading cases on car trucks.
Beyond software innovation, our commitment to continuous product development drives us to strengthen our hardware design capabilities daily. This approach empowers us to respond effectively to a wider array of on-site needs, ensuring we deliver reliable and versatile solutions to our valued customers.