Mujin will exhibit at the 2023 International Robot Exhibition, the world's largest robot trade show, at Tokyo Big Sight from November 29th to December 2nd, 2023. Mujin Booth is E6-18 (East Hall 6).
The exhibition concept revolves around "Intelligent Automation for DX in the Era of Variant Variables."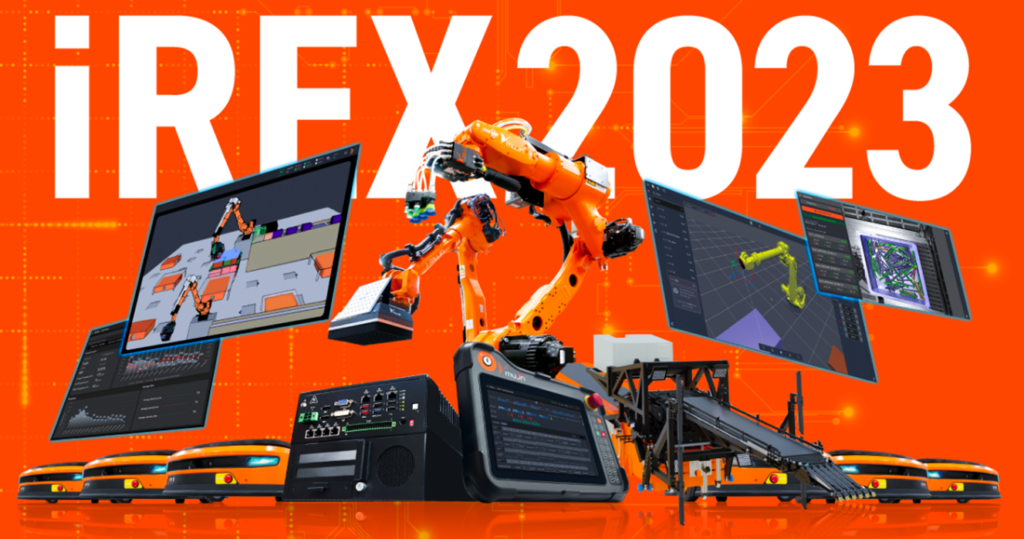 The current manufacturing and logistics landscape faces challenges – labor shortages, rising wages, logistics costs, and an escalating need for automation amid technology leak prevention concerns. However, automation's progress is hindered by variable production complexities.
Mujin's approach goes beyond individual robot control, achieving robot intelligence through integrated control of robot cells, including 3D vision and robot hands, enabling autonomous operation based on situations. We expanded control, linking robot cells to peripheral devices like AGVs and conveyors to achieve integrated production line control, data visualization, and remote operation.
At the exhibition, Mujin will showcase our latest technology, evolved into "Intelligent Automation." It enables cost-effective, rapid construction of complex automation in a variable-centric era, ensuring stable operation and analysis via an integrated intelligence system.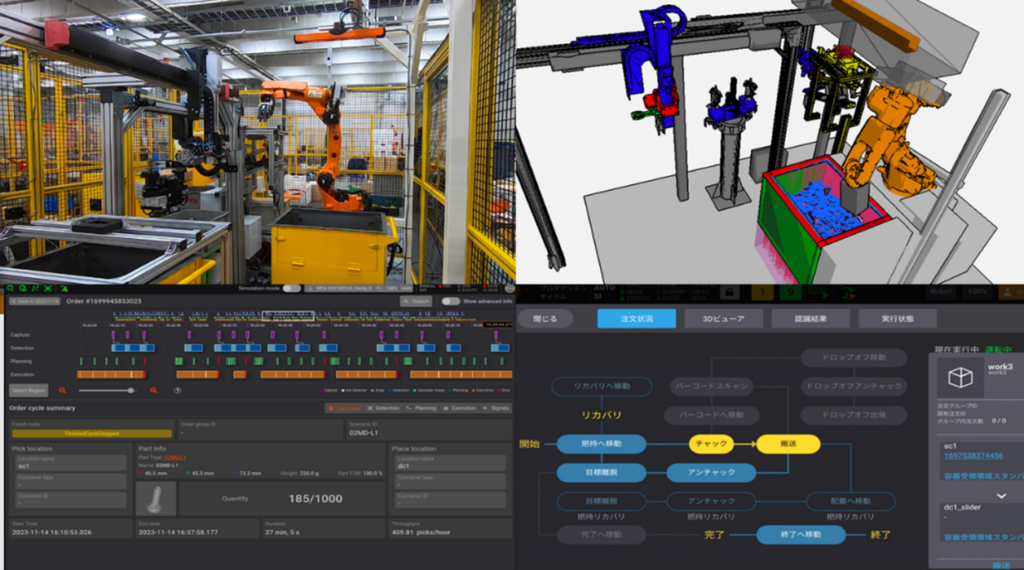 Exhibit Highlights: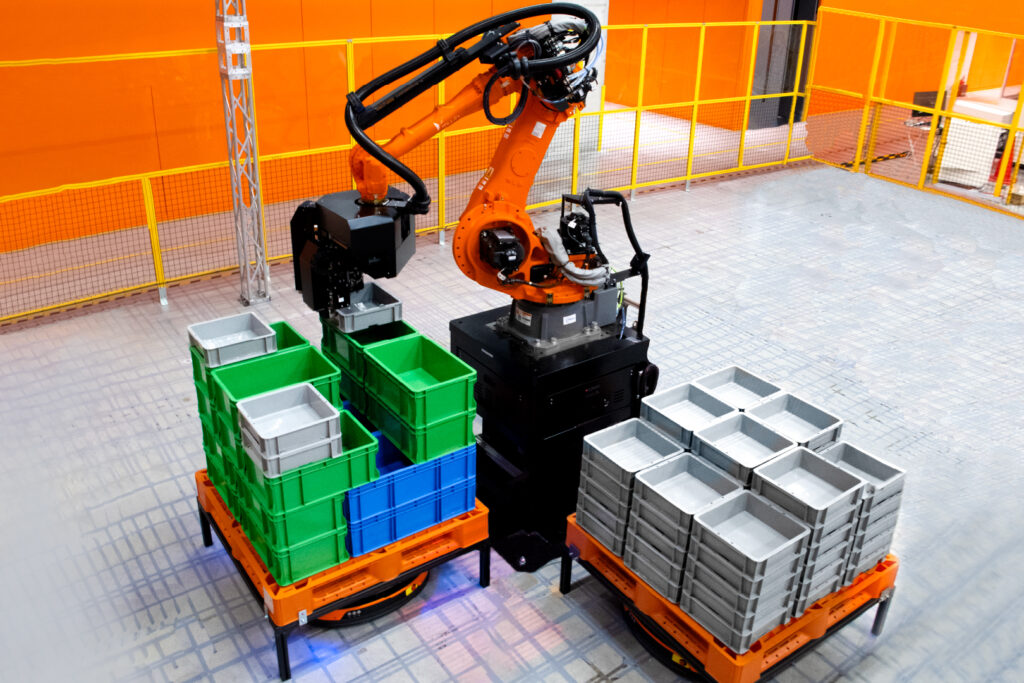 Intelligent Depalletizing/Palletizing Robot for Mixed Containers + AGV
Handles complex stacking patterns like mixed loading, straddling, and height matching.
Unique feature: Mujin's robot hand automatically adjusts grips for up to 50 returnable box types.
Offers an integrated in-plant logistics solution merging intelligent robots and AGVs.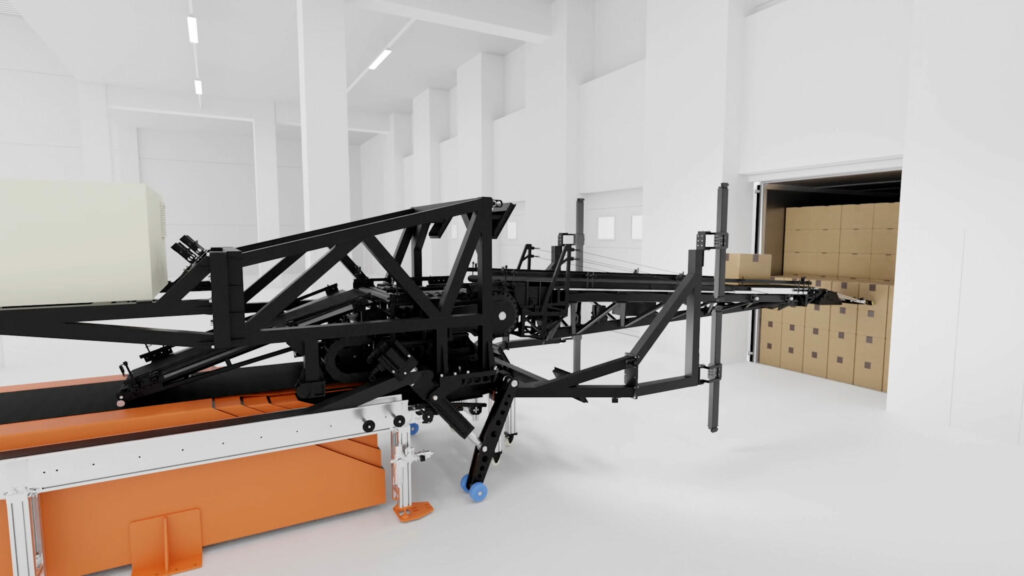 Debut in Japan! TruckBot – An Automated Devanning Robot
Intelligent robot equipped with devanning capabilities powered by robot intelligence software.
Achieves high-speed unloading of mixed cargo at a rate of up to 1,000 cases per hour.
Specialized movable/retractable conveyor and compatible hand for efficient operations.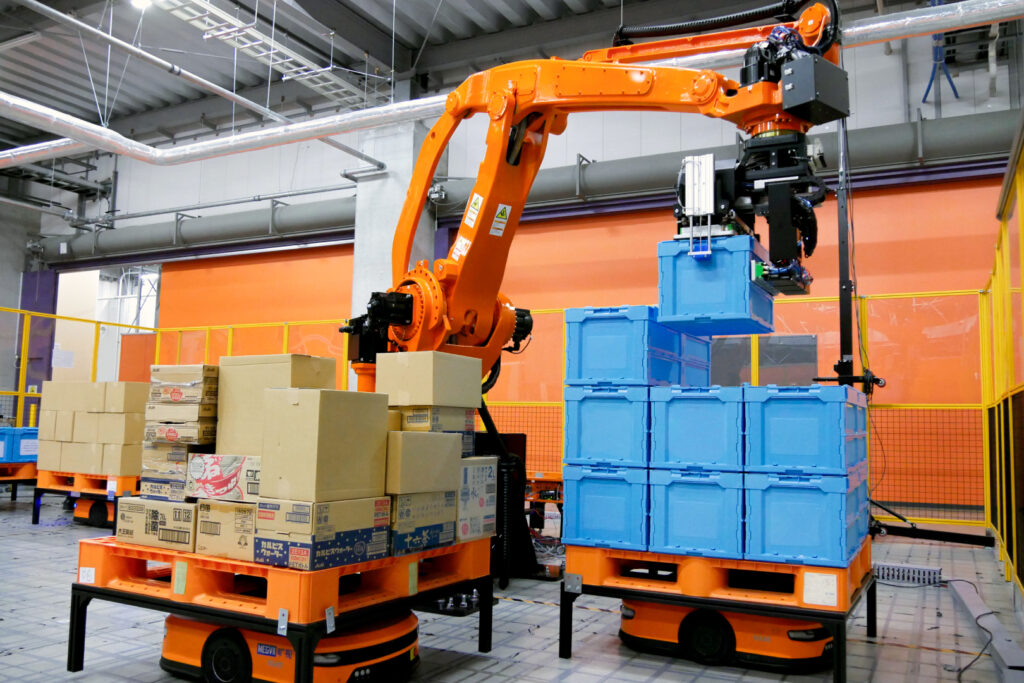 Multi-Functional Hand Mixed-Load Depalletizing Robot + AGV
Sorts mixed cases and facilitates single-multi-pick (simultaneous pick of two cases) with a single robot hand.
Achieves an "any number of products and simultaneous pick of two cases" capability, impossible with traditional teaching-based robots.
Utilizing cutting-edge hardware and software technology, it efficiently depalletizes a wide range of product varieties.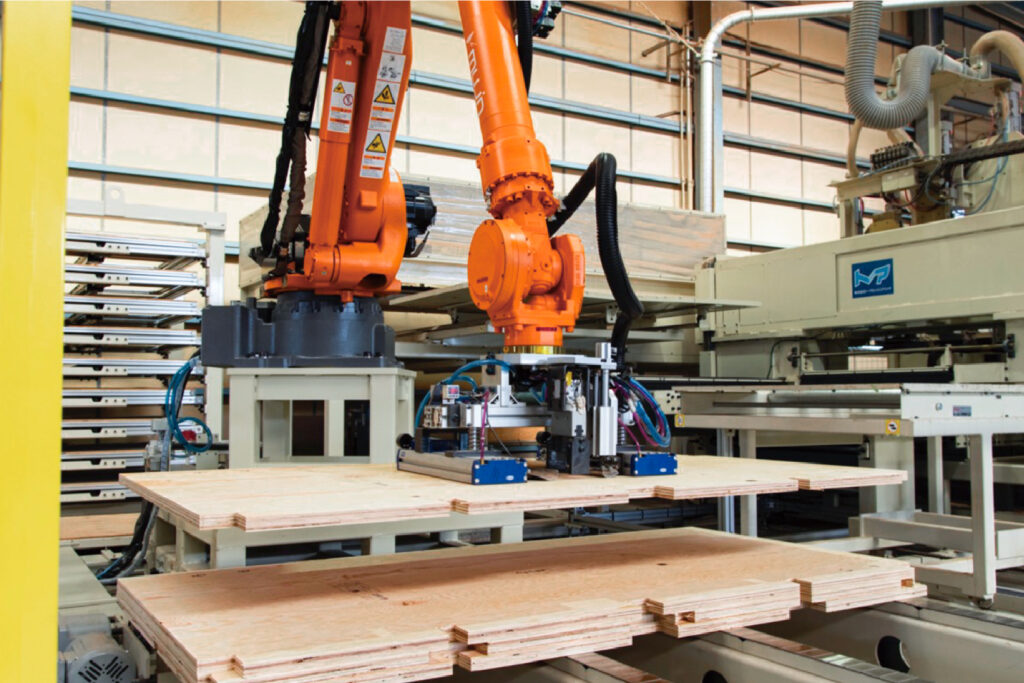 Building Pre-Cut Processing Machine + Teach-Less Palletizing Robot
Coordinates tasks like material stacking, spacer placement, and scrap material disposal autonomously based on CAD/CAM data, without needing teaching or vision.
Collaboratively developed a new processing machine with reduced cost and time, leveraging the MujinController.
MujinController's "intelligent external control device" function supports cost-effective and rapid development of new solutions.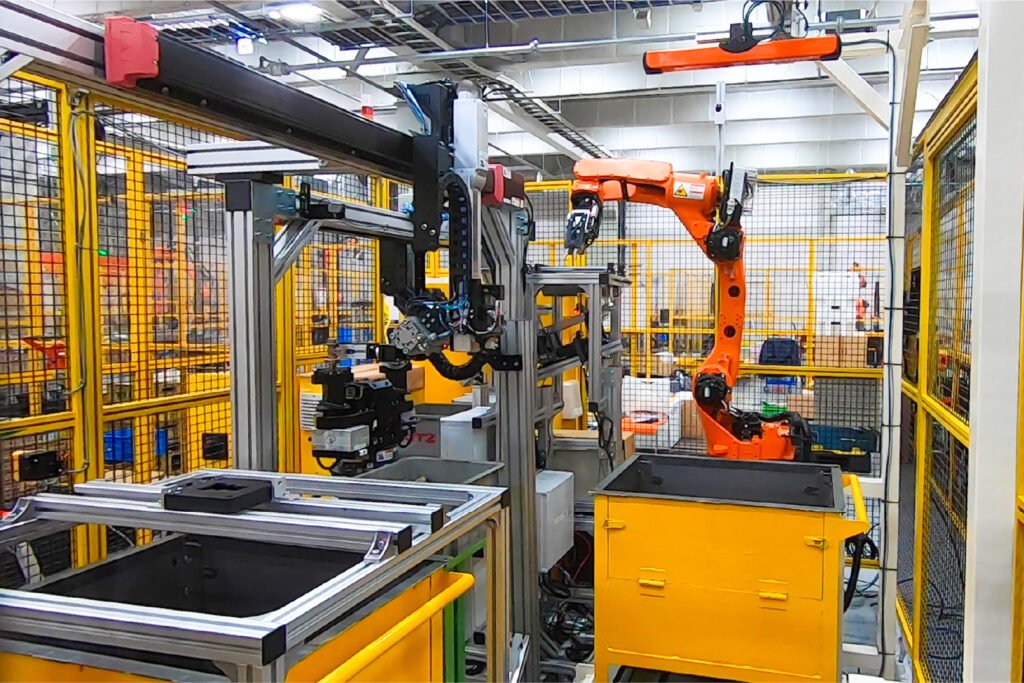 Bin Picking Robot + Visual Inspection + Deburring Press Machine
Exhibited by KITZ Corporation for their future mass production plant.
The MujinController orchestrates PLC-less integrated control of all cell devices, ensuring precise error identification and restoration with minimal steps.
Streamlines work processes by eliminating human reliance or expertise.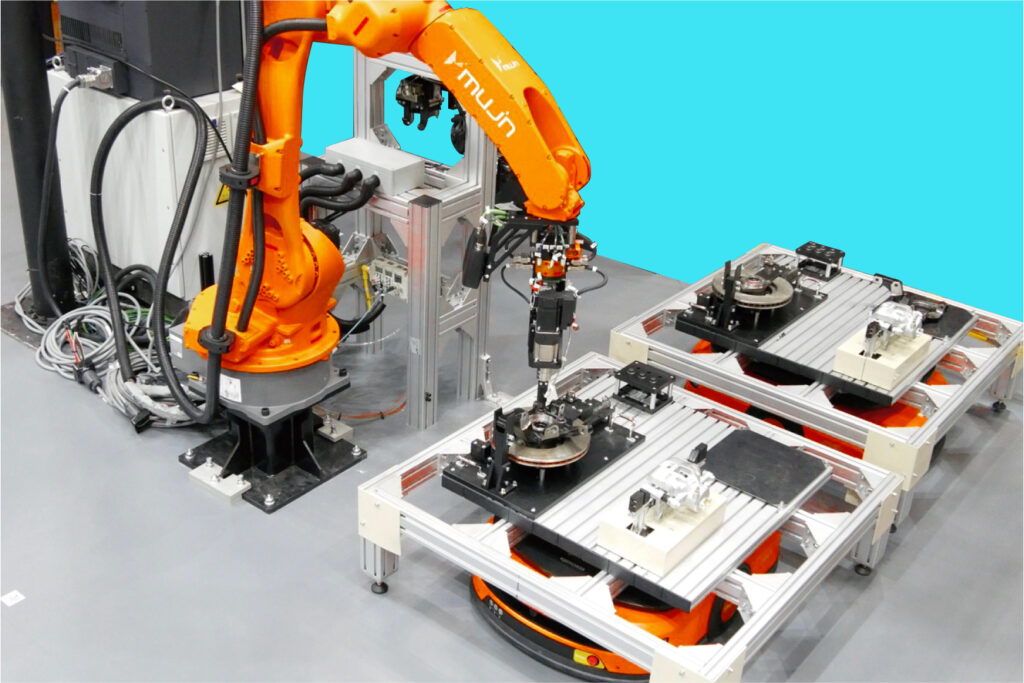 Intelligent Assembly Robot + AGV (Concept Exhibit)
Automates assembly work using shared jigs across product types and employs a 3D camera for flexible responses in variable assembly lines.
Teachless + high-precision robot control technology reduces time for preliminary simulation and on-site adjustments when adding production items.
Enables flexible layout designs using QR-grid type AGVs in cell production systems.
Moreover, we'll unveil the next-gen UI of the MujinController, an intelligent robot integrated control platform, promising user-friendly operations and data-driven management.
Every 30 minutes, the Mujin booth will host presentations providing insights into our DX automation solutions, ideal for those new to automation.
Moreover, Mujin will organize booth tours, introducing each automation solution. Registration is necessary and can be completed through the provided link.