TRUSCO NAKAYAMA Corporation introduced a fully automated palletizing solution powered by Mujin's industry-leading machine intelligence at its flagship distribution center called "Planet Saitama". One robot can handle a wide variety of products and palletize mixed SKUs at a height that previously was only possible through manual labor. As a result, the "Planet Saitama" distribution center is able to operate without delay, and even though they increased the amount and variety of goods, the amount of labor needed to handle the stacking task has been reduced.
TRUSCO NAKAYAMA aims to reduce the burden as a top priority, "Planet Saitama" has already introduced automation solutions for transportation, storage, and packing. However, until recently the loading process was still handled by manual labor. Compared to robots, humans have been able to adapt more easily when placing randomly discharged boxes of different sizes from upstream automatic packing machines.
In the face of this challenge, Mujin developed and introduced the Mujin Robot Palletizer System. The Mujin Robot Palletizer is integrated with peripheral equipment and performs in real-time meaning it can adjust to differences in height for each of the boxes.
Three key points highlighted for this case study:
1. Cooperation with peripheral devices
Mujin Robot palletizes the acquired box size from the upper-level system, thus eliminating the need for any measurements and enabling more efficient operation.
2. Two different stacking patterns
At Planet Saitama, without operator intervention, the Mujin Robot Palletizer can dynamically switch between two different stacking patterns depending on the box size.
2.1 Equal size box
When boxes are the same size, palletizing multiple boxes with one robot movement is performed (picking several items at the same time with one robot arm). This allows for increased productivity and delivery time.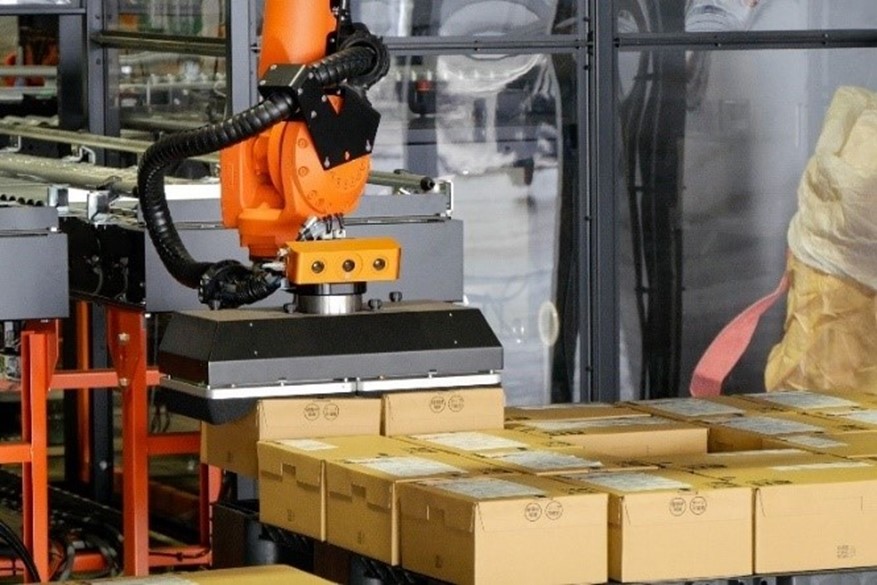 2.2 Stacking boxes of various sizes and contents
When boxes are of different sizes a real-time packing solution is generated and implemented.
The MujinController calculates the optimal continuous stacking pattern and performs it in real-time making the process fully automatic. The system calculates a stacking pattern according to a specified stacking height and the robot loads the maximum possible boxes according to the stacking pattern but does not exceed the maximum height.
3. Coordinated stacking on multiple pallets
The robot can coordinate stacking of boxes between multiple pallets and always loads boxes according to the optimal trajectories that consider the surrounding environment, box size, and the final stacking configuration for each of the pallets. To ensure proper loading, the robot arm is equipped with vision sensors on the gripper to find the position of the pallets placed by an autonomous mobile robot (AMR).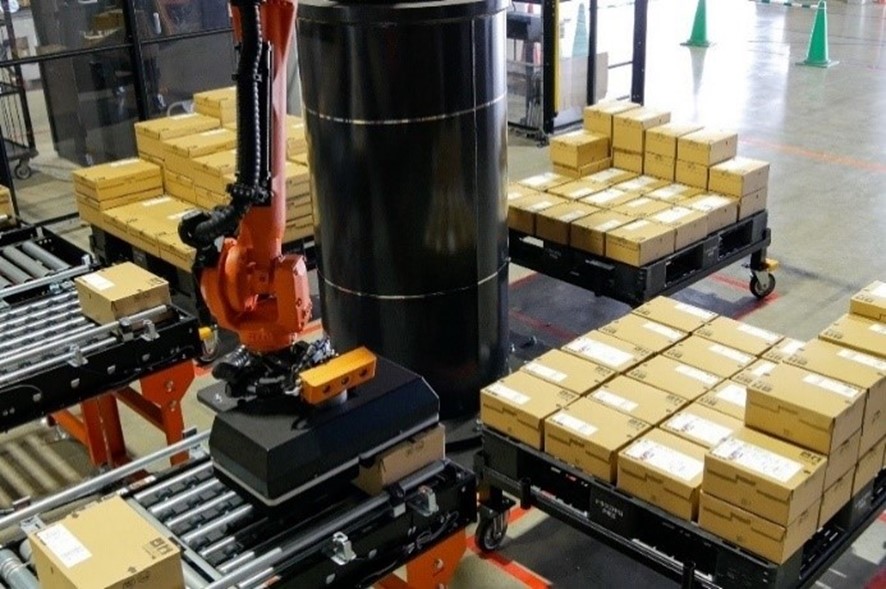 Attaching the vision sensor to the robot arm is a great advantage and feature of this project. Instead of installing stationary vision sensors above each pallet location, the system uses a single vision system attached to the robot arm, thereby reducing the number of vision sensors and overall costs.