Hello everyone, I'm Natsuki!
Today, I will introduce to you what a newcomer's first day is like at Mujin!
Actually…I just joined Mujin recently, so you'll be able to get a fresh perspective from this article.
On your first day at a new company, you might feel excited or even have butterflies in your stomach.
I had them before I arrived at the office. But my anxiety went away right after I walked into the office and found the welcome board!
I felt warmly welcomed!
Also, I was excited to find welcome gifts on my desk including a Mujin original T-shirt, mug, and stickers.
Those items became my daily go-to options right away. For instance, I use the mug instead of disposal plastic cups and wear the comfortable T-shirt at the office.
On my first day, there were 2 other new members. They said,
・"At Mujin, there are members from more than 20 countries, so I was excited to work in such a diverse environment."-
・"Mujin has a friendly atmosphere. Before I joined Mujin, I was not confident in English, but this atmosphere helps me a lot. Everyone is supportive."
Mujin holds an orientation for new members on their first day so that everyone can fit into the new environment smoothly.
First is an office tour. Mujin members show us around the whole office including the robot innovation center, where dozen of robots are lined up, and the engineering lab where innovation happens every day.
I realized that I was at the heart of Mujin, with people gathered here from all over the world to make the impossible possible.
The office is huge enough to get lost, so I tried to walk around a lot to get used to it during my frrst week.
After the tour, each team comes one by one and explains what we need to know to work at Mujin.
The whole day of orientation is a bit tough, but it's a good chance to learn details about the company's mission and values, basic rules, and tool usage.
All members keep Mujin's mission and values in mind so that we can head to our goal together: making innovation happen.
Mujin values lunchtime as an opportunity to communicate. Members from different teams gather and eat together at the cafeteria.
It's suggested for newcomers to have lunch with different members every day for a while. I thought it would be a good opportunity to get to know members and build relationship.
On the first day at Mujin, new members also do self-introduction presentations.
Each one of us introduced ourselves in English in front of everyone. It was one of the highlight of the day.
The other newcomers said, "It was a good atmosphere, so I think I did well!" and "I couldn't eat lunch much as I was a bit nervous."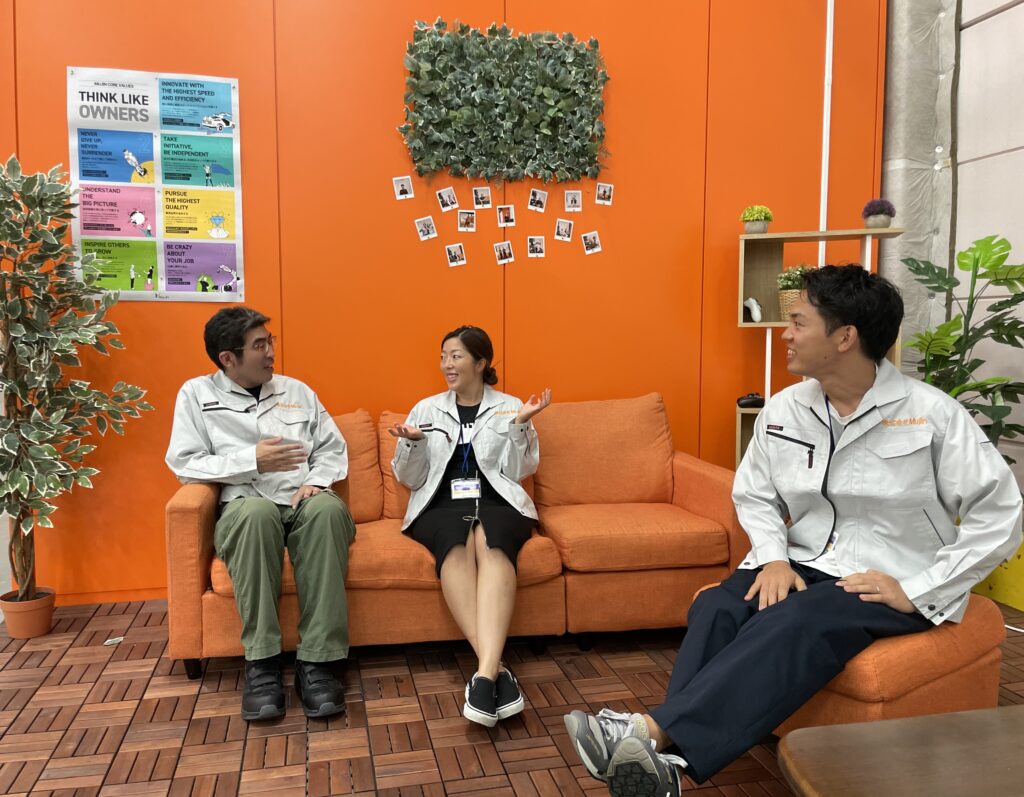 Mujin is filled with powerful energy. That is what I felt after spending just few days at Mujin.
The energy keeps me motivated every day, and I'm sure that it will lead us to achieve our goals.
If you are ready to join us, we are happy to welcome you! Let's enjoy Mujin life together!