"We both know people who have trouble distinguishing between their wants and needs. We do live in a society with options we never realized were possible just a short time ago. Remember, only Steve Jobs knew each of us needed a smart phone before 2007. "
"It's the story of a DC manager whose wants have become needs."
Check out Modern Materials Handling's article featuring MHS project with Mujin.
www.mmh.com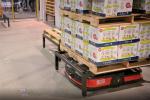 Flexible palletizing system for a labor constrained world
https://www.mmh.com/article/flexible_palletizing_system_for_a_labor_constrained_world
What if you could get away from that large, centralized palletizer fed by a maze of fixed conveyor that too often seems in the way? Not a bad idea. Here's an option that doesn't require more people to make up for newfound flexibility.